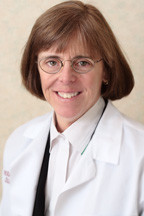 Martha A. Nowell, M.D. graduatedsumma cum laude with her B.S. degree from Tufts University in 1974 and her M.D. from Tufts University in 1978. She completed a residency in internal medicine at Boston City Hospital in 1981, a residency in radiology at Beth Israel Medical Center in 1984, and a fellowship in neuroradiology at the Hospital of the University of Pennsylvania in 1987.
Dr. Nowell is board certified in Internal Medicine and has been certified by the American Board of Radiology with a subspecialty in neuroradiology. She also has her CAQ certification in neuroradiology.
Before coming to Princeton Radiology, Dr. Nowell practiced radiology in Australia, Maryland and New Jersey. She is a previous member of the New Jersey Physicians Peer Review Group. In addition, Dr. Nowell has also published numerous research articles in a number of leading medical journals and made presentations at a variety of local, state and national meetings.
PUBLICATIONS
Nowell M, Grossman C., Multiple hypointensities on MR imaging of the brain. Neurology 1988.
Abbott M, Carvlin MJ, Nowell M, Sherman J, Wu C, Schellinger D. Determination of the sensitivity of MR imaging on the identification of known perforation like defects of the temperomandibular joint meniscus. Radiology 1989; 173 (P):100.
Nowell MA, Hackney DB, Maraki AM, Coleman M. Varied MR appearance of autism: fifty-three pediatric patients having the full autistic syndrome. Magnetic Resonance Imaging 1990; 8:811-816.
Young SC, Zimmerman RA, Nowell MA, Bilaniuk LT, Hackney DB, Grossman, RI, Goldberg HI. Giant cystic craniopharyngiomas. Neuroradiology 1987; 29:468-473.
Hackney DB, Lenkinski RE, Grossman RI, Zimmerman RA, Goldberg HI, Bilaniuk LT, Young SC, Nowell MA, Kemp SS. Initial experience with fast low angle shot multi-echo (FLAME) imaging of the CNS. Journal of Computer Assisted Tomography 1988; 12:171.
Nowell MA, Grossman RI, Hackney DB, Zimmerman RA, Goldberg HI, Bilaniuk LT. MR imaging of white matter disease in children. American Journal of Neuroradiology 1988;9:503.
Nowell MA, Hackney DB, Zimmerman RA, Bilaniuk LT, Grossman RI, Goldberg HI. Spin echo pulse sequences of imaging the immature brain. Radiology 1987; 162:272.
Nowell MA. Ultrasound evaluation of septo-optic dysplasia in the newborn: a case report. Neuroradiology 1986;28:491.
Austin RA, Nowell MA, Sacks B. Catheter hysterosalpingography. Radiology 1984;151:249.
Nowell MA, Bartosek T, MacDonnell K, Kowsowsy B. A quantification of ECG changes in response to IPPD treatment with saline versus bronchodilators. Clinical Research 1975;23 (5), abstract.