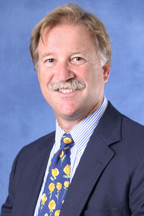 Robert B. Berger attended Rutgers University where he received his B.A. in Microbiology (cum laude). He earned his M.D. degree in 1978 from Jefferson Medical College in Philadelphia. He was a resident in internal medicine at Hartford's St. Francis Hospital and a resident in diagnostic radiology at Yale University School of Medicine.  After his residency, he completed a year of fellowship training in Nuclear Medicine and Ultrasound, also at Yale.  He is board certified in Diagnostic Radiology and in Nuclear Medicine.
Dr. Berger was Clinical Assistant Professor at Yale from 1981-1990, and in 1984 he became Clinical Assistant Professor of Diagnostic Imaging at Robert Wood Johnson School of Medicine. He has been an attending radiologist at University Medical Center of Princeton at Plainsboro (UMCPP) since 1983 and is now a senior attending physician.  He has served on the executive committee at UMCPP including one-year terms as secretary, vice-president, and president.  He is currently a chairman of  both UMCPP's Information Systems Physician Advisory Committee and Radiation Safety Committee.  In 1996, he passed the initial certification examination in nuclear cardiology administered by the American Society of Nuclear Cardiology.
Dr. Berger is a member of the American College of Radiology, the Radiological Society of North America, the American Roentgen Ray Society, the Society of Nuclear Medicine, the American Institute of Ultrasound in Medicine, and the American Society of Nuclear Cardiology.
He has been published in Pediatric Radiology, the Journal of Clinical Ultrasound, and the American Journal of Roentgenology.  His articles have been presented at the Annual Meeting of the Radiological Society of North America in Chicago.