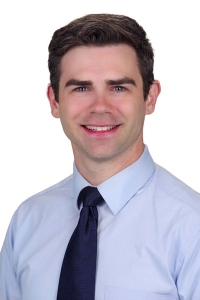 Ryan England graduated with distinction from the United States Naval Academy in Annapolis, Maryland with a B.S. in aerospace engineering in 2008, and then served as a naval officer and jet pilot. He earned his medical degree from Columbia University College of Physicians and Surgeons in New York, New York and was elected to the Alpha Omega Alpha honor society and Gold Humanism Honor Societies in 2017. Dr. England interned at Memorial Sloan Kettering Cancer Center in New York, and then completed an integrated residency in diagnostic and interventional radiology at The Johns Hopkins Hospital in Baltimore, Maryland.
Dr. England specializes in performing minimally-invasive image-guided procedures with an emphasis on embolization procedures, treating conditions such as benign prostate hyperplasia (prostate artery embolization), uterine fibroids (uterine artery embolization), liver tumors (chemoembolization, radioembolization, and thermal ablation), as well as varicoceles for men and pelvic congestion syndrome for women (gonadal vein embolization). He has experience with complex procedures including biliary access and lithotripsy, IVC filter retrieval, dialysis access interventions, TIPS placement for portal hypertension, and vertebral augmentation (vertebroplasty, kyphoplasty, and SpineJack).
Dr. England has authored and co-authored over 100 abstracts and journal articles, and has served as an editor and reviewer for the radiology flagship journal, Radiology. Having presented his work at dozens of national and international scientific meetings, Dr. England has earned several awards for research from the Radiological Society of North America (RSNA), Columbia University, and Johns Hopkins University. He is a member of RSNA, Society of Interventional Radiology (SIR), Cardiovascular and Interventional Radiological Society of Europe (CIRSE), and the American Medical Association (AMA). In addition to research, Dr. England is heavily involved in radiology global health, where he serves on the leadership board of RAD-AID International—a non-profit organization focused on providing medical imaging to under-served populations around the world.
Dr. England joined Princeton Radiology in 2023. He currently holds appointments as an attending radiologist at Penn Medicine Princeton Health Care System and CentraState Medical Center.
SELECTED PUBLICATIONS:
England RW, Ring NY, Huh E, Bhagat N, Srinivas A, Akman A, Johnson B, Hong K, Leigh R, Hui FK. Development of Endovascular Thrombectomy Services for Acute Ischemic Stroke via On-Site Training of Interventional Radiologists. J Vasc Interv Radiol. 2021 Dec 3:S1051-0443(21)01523-2.
Pang S*, England RW*, Solomon A, Hong K, Singh H. Single-Use versus Reusable Endoscopes for Percutaneous Biliary Endoscopy with Lithotripsy: Technical Metrics, Clinical Outcomes, and Cost Comparison. J Vasc Interv Radiol. 2021 Dec 24:S1051-0443(21)01610-9. *Co-first authors.
England RW*, Lugossy AM, Mollura DJ. Increasing Opportunities for Trainees to Engage in Global Health Radiology: Radiology In Training. Radiology. 2021 Jun 15:210371. doi: 10.1148/radiol.2021210371. *Principal Investigator/Corresponding Author.
England RW*, Gage D, Kesselman A, Mollura DJ. To New Heights: Interventional Radiology Outreach to Underserved Regions via Aircraft-Delivered Mobile Health Units. Cardiovasc Intervent Radiol. 2021 May 21. *Principal Investigator/Corresponding Author.
England RW, Gong A, Li T, Botros D, Manupipatpong S, Pang S, Hui F, Khan M. Clinical outcomes and safety of the SpineJack vertebral augmentation system for the treatment of vertebral compression fractures in a United States patient population. J Clin Neurosci. 2021 Jul;89:237-242.
England RW, Motaghi M, Kohler B, Hemmingson TE, Wu AW, Weiss CR. Development and Preliminary Validation of the Patient-Reported Outcome Measure for Vascular Malformation Questionnaire: A Prospective Cohort Study. J Vasc Interv Radiol. 2021 May;32(5):683-690.e4.