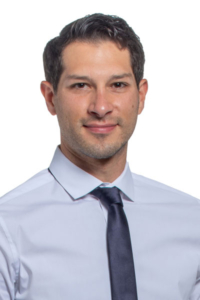 Seth Stein, MD graduated cum laude from the University of Rochester in Rochester, New York in 2010. He went on to obtain his M.D. from Temple University School of Medicine in Philadelphia in 2014, followed by an Internal Medicine internship at Mount Sinai St. Luke's-Roosevelt Hospital in 2015. He completed his Diagnostic and Interventional Radiology residency training at New York-Presbyterian Hospital, Weill Cornell Medical Center, Memorial Sloan Kettering Cancer Center and the Hospital for Special Surgery in 2019. He went on to complete fellowship training in Vascular and Interventional Radiology at Northwestern University, Northwestern Memorial Hospital in Chicago in 2020. And is now board certified in Interventional Radiology/Diagnostic Radiology.
Dr. Stein specializes in performing minimally-invasive image-guided procedures with an emphasis on treating superficial venous disease (varicose veins) and deep venous disease. He also has experience with complex procedures treating pelvic congestion, peripheral arterial disease, prostate artery embolization (BPH), uterine fibroid embolization, portal hypertension (TIPS), dialysis access interventions, and interventional oncology (radioembolization, chemoembolization, thermal ablation).
In addition to presenting at international conferences, Dr. Stein has authored and co-authored several abstracts, journal articles, and has also contributed to book chapters in the field of interventional oncology. He is a member of the American Venous and Lymphatic Society, Society of Interventional Radiology, Outpatient Endovascular and Interventional Society, American College of Radiology and the Radiologic Society of North America.
Dr. Stein joined Princeton Radiology in 2020. He currently holds an appointment as an attending radiologist at Penn Medicine Princeton Health Care System and CentraState Medical Center.
PUBLICATIONS:
Stein SI, Soliman MM, Sparapani J, Doustaly R, Cobb BW, Malhotra A, Charalel R, May BJ, Lee KS, Madoff DC, Talenfeld AD. Conventional Hepatic Volumetry May Lead to Inaccurate Segmental Yttrium-90 Radiation Dosimetry. Cardiovasc Intervent Radiol. 2021 Aug 19.
Stein S, McGinty G. The Economics of Quality and Safety in Radiology: Accreditation programs and landmark legislation. Clinical Imaging, 2020 Apr;60(2):260-262.
Soliman M, Stein S, Doustaly R, Madoff D. Utilization of a Virtual Injection Software to Aid in Microcatheter Positioning During Transarterial Chemoembolization. JVIR, 2019 Oct;30(10):1646-1648.
Stein S. Hepatic Oncology. In: Eltorai A, Ahn S, Healey T, Hyman, C eds. Essential Interventional Radiology Review. Springer; 2020 (In Press).
Fine GC, Smith TA, Stein SI, Madoff DC. Interventional radiology's role in the diagnosis and management of patients with gallbladder carcinoma. Chinese Clinical Oncology, 2019;8(4):40.
Stein S, DC Madoff. Balloon-Assisted Transarterial Chemoembolization Segmentectomy: An Alternative Strategy in the Treatment of Hypovascular Oligometastatic Liver Metastases. JVIR, 2019 Jul;30(7):1143-1145.
Stein S, DC Madoff. Balloon-assisted blood pressure reduction in the downstream vascular compartment to avoid nontarget embolization during TACE from the inferior phrenic artery. JVIR, 2019 May 14. pii: S1051-0443(18)31779-2.
Gao S, Stein S, Petre EN, et al. Micropapillary and/or Solid Histologic Subtype Based on Pre- Treatment Biopsy Predicts Local Recurrence After Thermal Ablation of Lung Adenocarcinoma Cardiovasc Intervent Radiol. 2018;41(2):253–259.
Stein S. The Nonprofit Hospital Tax Exemption. Health Affairs (Project Hope). 2015 Sept; 34(9):1610.
Stein S, Barry JR, Jha S. Are Chargemaster Rates for Imaging Studies Lower in States that Cap Non-Economic Damages (Tort Reform)? Journal of the American College of Radiology. 2014 Aug;11(8):808-16.
Stein S, The Machines Are Taking Over! The Jobs Are Gone! Why I Still Want To Become A Radiologist. Journal of the American College of Radiology. 2013 Nov;10(11):883.