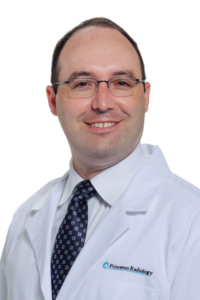 Daniel Wahl received a B.S. in Molecular and Cellular Biology from Johns Hopkins University in Baltimore, Maryland in 2010. He went on to obtain his M.D. from Drexel University College of Medicine in 2014. Dr. Wahl served as an intern (2014-2015) and Diagnostic Radiology resident (2015-2019) at Einstein Medical Center in Philadelphia, Pennsylvania, also serving as the Chief Resident in Diagnostic Radiology. Subsequently, Dr. Wahl completed fellowship training in Abdominal Imaging at the Hospital of the University of Pennsylvania in Philadelphia in 2020, while serving as the Chief Fellow.
Dr. Wahl has been certified by the National Board of Medical Examiners and is Board Certified as a diagnostic radiologist by the American Board of Radiology.
Dr. Wahl joined Princeton Radiology in 2020. He currently holds appointments as an attending radiologist at Penn Medicine Princeton Health Care System and CentraState Medical Center.
He is a member of several medical societies and professional organizations including the American College of Radiology, American Roentgen Ray Society, and the Radiological Society of North America.