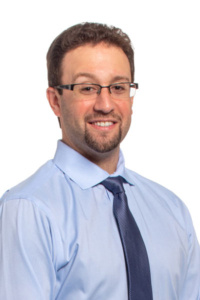 Jonathan Masur received a B.A. from Rutgers University in New Brunswick, New Jersey in 2005. He went on to obtain his M.D. from Albert Einstein College of Medicine in Bronx, New York in 2013. Dr. Masur interned at Morristown Medical Center in Morristown, New Jersey before he completed a diagnostic radiology residency at Pennsylvania Hospital in Philadelphia, Pennsylvania, where he was named Chief Resident for 2017-2018. Dr. Masur went on to complete a two-year fellowship training in Neuroradiology at the Hospital of the University of Pennsylvania in Philadelphia, Pennsylvania in 2020.
Dr. Masur has been certified by the National Board of Medical Examiners and Board Certified as a diagnostic radiologist by the American Board of Radiology. In addition, he has been awarded a Certificate of Added Qualification in Neuroradiology.
Dr. Masur joined Princeton Radiology in 2020. He currently holds an appointment as an attending radiologist at Penn Medicine Princeton Health Care System and CentraState Medical Center.
He is a member of several medical societies and professional organizations including the Radiologic Society of North America (RSNA), American Society of Neuroradiology, and American Roentgen Ray Society, and has served on the RSNA Education Committee.
Area of Expertise: Neuroradiology