Naishadh Shah, D.O., M.B.A.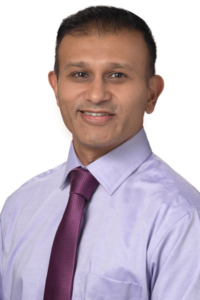 Naishadh Shah completed his fellowship in vascular and interventional radiology in 2011 at the Hospital of the University of Pennsylvania in Philadelphia, Pennsylvania.  Dr. Shah was chief resident during his diagnostic radiology residency at Temple University Hospital in Philadelphia, Pennsylvania ending in 2010.  He was granted his D.O. with honors in 2005 from New York College of Osteopathic Medicine in Old Westbury, New York. He received his B.S. summa cum laude and M.B.A. from New York Institute of Technology in Old Westbury, New York in 2000 and 2004 respectively.
Before joining Princeton Radiology in January of 2022, Dr. Shah worked as a vascular and interventional radiologist with Abington Memorial Hospital and the Radiology Group of Abington in Abington, Pennsylvania. From 2017 to 2021 Dr. Shah served as Chief of Vascular and Interventional Radiology, Patient Safety Officer, and Reliability Officer at Abington-Jefferson Health in Abington, Pennsylvania. He was also the Medical Director for the Vein Institute of Blue Bell in Blue Bell, Pennsylvania (2015-2021) and the Asplundh Surgical Center in Willow Grove, Pennsylvania (2018-2021).
He currently holds an appointment as an attending radiologist at Penn Medicine Princeton Health Care System and CentraState Medical Center. Dr. Shah specializes in performing minimally-invasive image-guided procedures and interpreting diagnostic images.
In addition to presenting at various scientific conferences, Dr. Shah has co-authored articles in the Journal of Vascular and Interventional Radiology, and the Journal of Interventional Oncology. He is a member of the Society of Interventional Radiology and American College of Radiology.